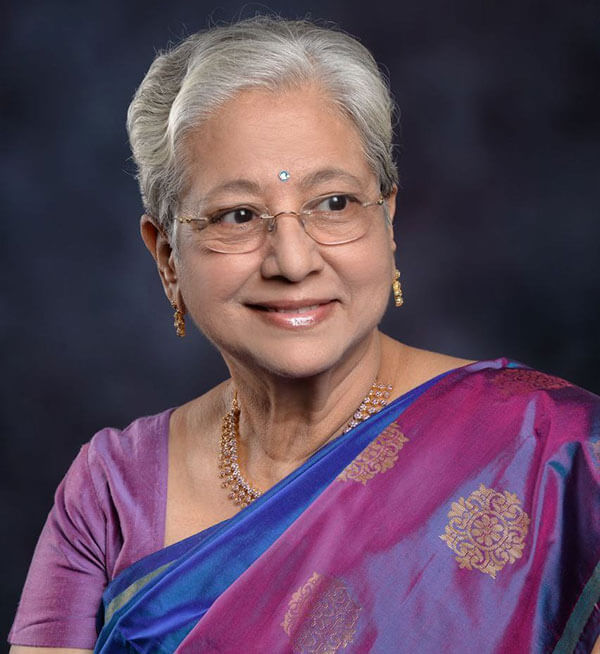 Dr. Prithika Chary
MBBS, MD, DM (Neuro), Ph.D (Neuro), MCh (Neurosurgery), MNAMS (Neurology)
Dr. Prithika Chary is a qualified Neurologist and Neurosurgeon. She completed medical school at the Government Kilpauk Medical College, Chennai in 1971 and then went on to qualify for the MD, DM, Ph.D and MCh from the Government Madras Medical College, Chennai. She is practicing medicine from 1974, neurology from 1978 and neurosurgery as well from 1990 in the city of Chennai.
Epilepsy experts In Chennai - Professional Qualifications
MBBS – 1971 – Govt Kilpauk Medical College, Madras
MD (Internal Medicine) – 1974 – Govt. Madras Medical College, Madras
DM (Neurology) – 1978 – Govt. Madras Medical College, Madras
Ph. D (Neurology) – 1981 – University of Madras, Madras
MNAMS (Neurology) – 1989 Conferred by National Board of Examinations, New Delhi
MCh (Neuro Surgery) – 1990 – Dr MGR Medical University, Chennai.
Best doctor for epilepsy In Chennai
Clinical Experience after MBBS
Senior House Officer (Internal Medicine) 1971 -1972 , Madras Medical College, Madras
Post graduate training for MD (Internal Medicine) 1972 -1974, Madras Medical College, Madras
Assistant Professor, Neurosurgery, Neurology, Medicine & NeuroDiabetology, Madras Medical college 1975 -1982, Madras Medical College, Madras
CSIR Postdoctoral Fellow, Madras Medical college 1982 -1985, Madras Medical College, Madras
Consultant Neurologist, Apollo Main Hospital, Chennai 1983 to March 2012
Consultant Neurosurgeon, Apollo Speciality Hospital, Chennai 1990 to March 2012
Adjunct Professor (Dr MGR University) since Sept 2010, Chennai
Senior Consultant Neurologist & H.O.D, Department of Neurology, Global Hospitals and Health City, Perumbakkam, (OMR), Chennai, from March 2012 to February 2013
Senior Consultant Neurologist and Neurosurgeon, Kauvery Hospital, TTK Road, Alwarpet, Chennai 600004 since June 2012 till date..
In Kauvery Hospital, I set up the Neurophysiology laboratory with a colleague. This laboratory has successfully been doing high-quality EEG, Video EEG, NCS & EMG. It is currently being upgraded with new equipment & wider range of tests. Founder Director EPICENTTRE (Epilepsy Institute & Centre for Treatment, Training, Research, and Education) a stand-alone comprehensive epilepsy expert & center from 1994 to date, operating over these 25 years at various locations, currently housed at Kauvery Hospital and Voluntary Health Services Hospital, Taramani, Chennai.
Career Benchmarks and Milestones
First and only lady in India to be qualified and practicing as both Neurophysician and Neurosurgeon
Initiated comprehensive epilepsy expert in Chennai in 1994 by starting EPICENTTRE (Epilepsy Institute & Centre for Treatment, Training, Research & Education) as Founder Director – currently functioning out of Kauvery Hospital, Chennai and Voluntary Health Services Hospital, Taramani, Chennai
Introduced the first video EEG service in the private sector in the whole of South India in 1994
Started the epilepsy surgery program in Apollo hospitals in 1998
Only PhD guide in Apollo hospital – have guided 5 students to date, all have completed successfully
Took charge of and set up the medical library at Apollo hospital between 1984 and 2002
Conceived, guided as project consultant and completed Wellness Plus centre for integrative health at Apollo Sindoori in 2003-4
Conceived, guided, strategised, planned, executed and completed Apollo Centre of Excellence for Women 2005-6 – a standalone, multidisciplinary outpatient centre for women's health. Head of centre till July 2008
Attended several conferences, presented papers, written and published articles, given lectures, etc all over the world
Chief-Division of Epileptology, Department of Neurosciences, Apollo Hospital, Chennai from 1996 to March 2012.
Chief Neurologist – Kauvery Hospital, Alwarpet, Chennai – since 2012 to date
Approved Ph.D., Guide S.No.132, The Tamilnadu Dr. M.G.R. Medical University (Apollo Hospital, Dept. of Neuroscience's since 1993) – guided 5 PhD candidates . All have been awarded their degree.
Adjunct Professor of Neurology The Tamilnadu Dr. M.G.R. Medical University, since September 2010.
Chief Investigator in Chennai for multicentre open label study on Tiagabine A new add on Antiepileptic drug. Under sponsorship of  Novonordisk/Sanofi torrent. Completed in 2001.
Editorial Adviser, Epilepsia Digest,A Publication of the ILAE(International League Against Epilepsy) 1996 to 1999.

Governing Council Member, Tamilnadu, Indian Epilepsy Association 1998-2000 & 2000-2002.

Member,Editorial Advisory Committee, Epilepsy India (Joint Newsletter of Indian Epilepsy Association & Indian Epilepsy society) 1998.
Special Skills
Teaching experience spans 46 years, initially teaching in the Madras Medical College from 1974 to 1982 as an Assistant Professor successively in General Medicine, Neurosurgery, Neurology and Neurodiabetology. Thereafter at Apollo Hospitals and as a freelance teacher and trainer she has been a resource person in CME's and focused seminars in Medicine and Neurology.
Working with neurological patients since 1974.
Actively involved in comprehensive epilepsy care in addition since 1994.
Speaks fluently in Tamil, Telugu and English and to some extent in Hindi as well. She writes and speaks well and gives regular talks and lectures to various audiences. Knows basic German and French
Consultant in her specialty with the Apollo Hospitals, Chennai since its inception in the early 1980's and was the Chief of the Division of Epileptology since 1996 – March 2012.
Involved with corporates, schools, colleges,NGO's and management institutions and hospitals since 1996 in various aspects of cognitive & behavioural neurology, neurorehabilitation and mind/brain/body medicine.
Public education on health and everyday applications of Mind/Brain functions is a passion with her, and she is able to simplify this complex subject into easy understandable concepts through her initiative Creative Karma.She is an expert wellness and brain health coach and empowers and enables health and wellness through one to one coaching, webinars, lectures, seminars, virtual classes, virtual courses and social media through her initiative Be Your Best with Dr. Prithika Chary.
Personal Traits
Dr. Prithika Chary, Best doctor for epilepsy In Chennai is a deliverer. She believes in giving value in everything she does ethically and maximally. She considers it her duty to take responsibility for life and her contributions to society.
She believes life is to be enjoyed and not endured. She is an excellent communicator and often captivates her audience and inspires people around her by being a role model of high self esteem, self confidence,courage,compassion and caring.
She is a thought leader,always supporting and growing people around her with her innovative, novel, yet practical ideas assisting them to scale their lives to joy and success.
She can simplify sophisticated concepts in a way that anyone can understand. She is an incurable optimist bringing positivity into every situation of matter how bad. She injects enthusiasm into people and is generous with support and praise for hard work and effort.
She is grateful for people and circumstances and is quick to find positive outcome in every situation. This skill is key to motivating people to transformation and for mitigating conflicts with win win solutions.
She enjoys mental activity and meaningful conversations and enjoys her alone time,reflecting and constantly seeking opportunities to grow and become a better person in every way.
She comes across as deeply spiritual and philosophical and usually has the right message under different circumstances to overcome negative events.
Meditation,pleasurable movement ( yoga, walking,dancing), healthy food and good sleep are part of her daily life. She writes poetry and articles and is passionate about photography as a hobby.
She enjoys all genres of music, loves movies, travel and people and is curious to learn what makes the world go round. She has a childlike sense of wonder and enjoys gardens and museums alike, always learning from everything around her.
SHE BELIEVES SHE IS A CONTRIBUTOR AND A PERSON OR PLACE SHOULD BE BETTER AFTER SHE HAS PASSED THROUGH.